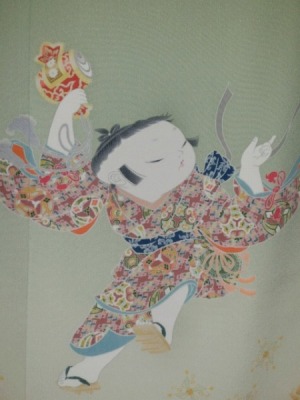 This is Kaga Yuzen's owner, Mr. Tokuhuro Nozu's dojo's visit to the design of a picture of a child.
Using a hard paste that is difficult to handle, most of the process is done by one person Mr. Kuhisa Tokuhi 2nd generation
It is a magnificent visit wearing of a daughter who was a very elegant face dressed.

Although it is not a lot of patterns, there are sophisticated shades and Yuzen threads with a taste of true paste
You can call yourself confidently with the best wearing expression in any seat.
Please adjust luxury with luxury of the belt.
Click pictures to enlarge