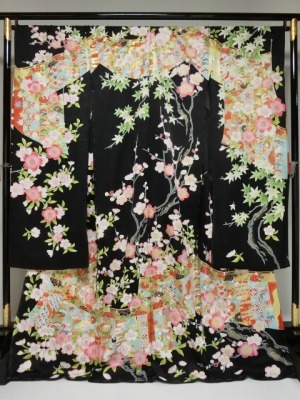 It is the kimono of the Kyoto yuzen on behalf of Japan.
A long-established store of the dyeing from old times was able to be dyed in Kyoto.

After a dyeing seller does traditional kimono with short sleeves in the Edo Period, court solution, Tsuji of a tea dealer and study pursuit with Kissho design.Its pattern was put on and it was drawn in a thing.

All the processes are performed for people's handwork.
A different craftsman performed the work by processes more than 20 including a workman of metal-leaf covering and the hand embroidery each.

Technique: Freehand drawing + line yuzen + gold processing + hand embroidery

It takes about three months to make one kimono from the work which very needs perseverance and time.

Cloth is silk.
Click pictures to enlarge